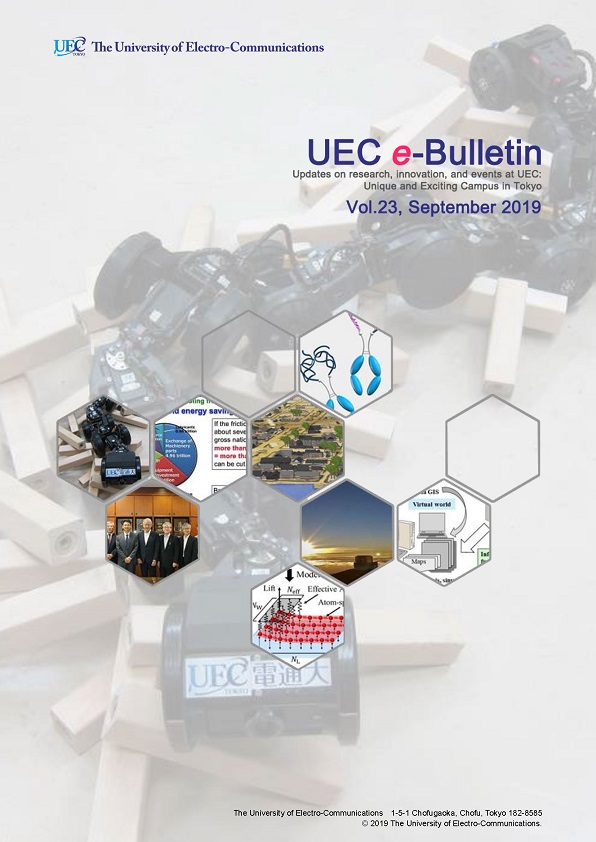 The September 2019 issue of the UEC e-Bulletin includes short videos of UEC researchers describing their activities on 'control and applications of 'snake-like' robots', Motoyasu Tanaka; and 'Nanotribology: Controlling friction on the nanometer scale', Naruo Sasaki.
Research highlights are 'Control of snake-like robots for high mobility and dexterity,' Motoyasu Tanaka; 'Time-saving simulation of peeling graphene sheets', Naruo Sasaki; and 'Convenient synthesis of biopharmaceutic-Fc conjugates', Masumi Taki.
The Topics section features research on 'Social informatics: Innovative information systems to connect humans and social infrastructure', by Kayoko Yamamoto'.
News and Events : UEC will host the Irago Conference 2019 on 29 October 2019; the visit by a delegation from Tamkang University (TKU) in Taipei and faculty members from Wuhan University of Science and Technology (WUST), China.