Shohei Kajikawa, Assistant Professor, Department of Mechanical and Intelligent Systems Engineering
Technology for processing wood powder with natural additives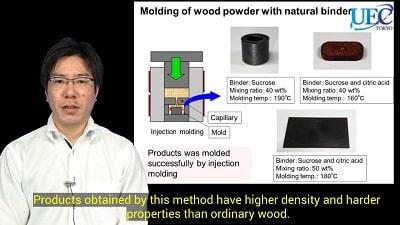 Shohei Kajikawa working on new processing methods for metals, wood, etc., and the optimization of methods for conventional processing methods.
The specific target of his research is materials processing technology, such as plastic forming, that is used to manufacture parts for all kinds of products ranging from automobiles, home appliances, furniture, housing materials, stationery, etc., that we use daily. If such parts can be manufactured easily and in a short time, it is possible to reduce the cost of products around us as well as reducing the burden on our environmental by improving processing efficiency.
Also, if it is possible to create new shapes that could not be produced before, it would be possible to add new functions to products.
One topic is the development of wood processing technology. Wood is an environmentally friendly resource with low environmental impact, but it is difficult to process efficiently compared to metals and plastics widely used as industrial materials, so the price of wood-made products is high. Also its applications are limited.
The goal is improving the formability of wood by heat treatment and using additives of natural origin, and carry out efficient forming and processing used for metals and plastics.
Products obtained by this method have higher density and harder properties than ordinary wood. I going forward with this research, I think it will be possible to use wood with low environmental impact as a material to replace petroleum-based plastics.
Further information
Shohei Kajikawa
Assistant Professor, Department of Mechanical and Intelligent Systems Engineering, The University of Electro-Communications.
Research Highlight: Technology for processing wood powder with natural additives