Weather monitoring in three dimensions: Rain rate estimates using X-band phased array weather radar network
X-band phased-array weather radars (PAWRs) are located at Osaka and Kobe. The PAWR provides a three-dimensional structure of the precipitation within 30 sec.
However, the rain rate estimated by PAWR tends to be underestimated because the rain attenuates the received power.
To resolve this issue Hiroshi Kikuchi, Tomoo Ushio and colleagues at The University of Electro-Communications and Tokyo Metropolitan University show that network observations with two phased array weather radars improves the accuracy of estimating the rain rate within the networked area.
This study proposes a rain rate estimation method by sequentially varying the radar reflectivity factor (Z) and rain rate (R) relationship, the goal being to improve the rain rate estimation accuracy. To calculate the time variation in the Z-R relationship, the rain rate estimated with the existing radar networks and the radar reflectivity observed by the PAWR are used.
The proposed method is significantly better than the other existing two methods at accurately estimating rainfall rate for heavy or violent rain conditions.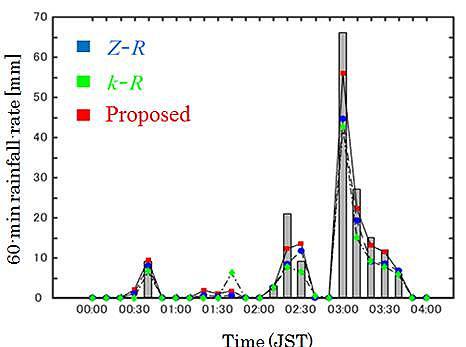 For practical use, it is important to estimate accurate rain rate under heavy or violent rain conditions because storm warnings are issued when the rain rate is over a threshold; the proposed method is particularly effective under conditions of strong rainfall.
Reference