Shakeel Ahmed, Assistant Professor at Department of Electrical Engineering, Pakistan Institute of Engineering and Applied Sciences (PIEAS), Islamabad, Pakistan.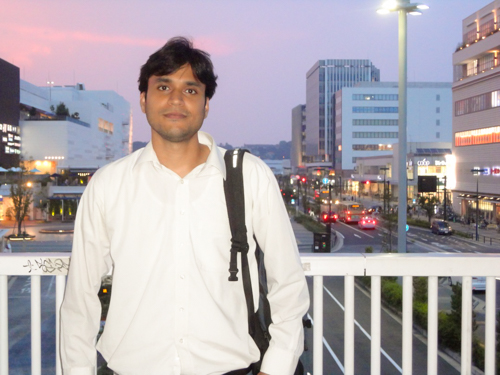 After spending almost four years of my life in Japan, from April 26, 2011 to March 03, 2015, I feel like Japan is my second home. I was selected by the embassy of Japan in Pakistan for Ministry of Education, Culture, Sports, Science and Technology (MEXT) Research Scholarships 2011. Before coming to Japan I was working as a Lecturer in Department of Electrical Engineering, PIEAS, Islamabad, Pakistan.
In Japan, I did research on Acoustic Noise Cancellation. During my stay in Japan I have attended international conferences to present my research work. The research work at the University of Electro-Communications (UEC) resulted in two journal publications one published in the journal of IEEE Transactions on Audio Speech and Language Processing and second published in Journal of IET. All this happened because of the friendly research environment in Prof. Zhang Lab. I will definitely miss the time that I spent with my Lab mates from Prof. Wataru Mitsuhashi Lab., Prof. Zhang Lab, and Prof. Yoshikazu Washizawa Lab.
Now that I have graduated from Prof. Zhang Lab, Department of Communication Engineering and Informatics, UEC, as a PhD student, I have re-joined the Department of Electrical Engineering, PIEAS, Islamabad Pakistan. Now I am a member of Signal Processing research group at PIEAS. I am hopeful that I will use the research skills that I developed at UEC for the research in the area of signal processing at my home institution in Pakistan.
The UEC is really a unique and exciting campus. I am thankful to UEC staff and the faculty members for their valuable support and help that made my stay in Japan one of the best period of my life. I will definitely try my best to have some platform to build a research collaboration between UEC and my home institution in Pakistan. I will conclude with the following few words. My love for UEC and for Japan will remain forever and I wish that I could visit Japan again and again for research collaboration and to meet my friends and teachers.