Kaoru Minoshima, Professor, Department of Engineering Science, Graduate School of Informatics and Engineering
Optical frequency comb technology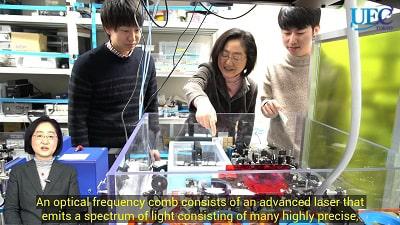 Kaoru Minoshima is focused on expanding the applications of optical technology that is limited at the moment. For example, one reason is that at several 100 terahertz (THz) the frequency of light is too high to directly control and manipulate signals using conventional technology.
Minoshima and colleagues are developing advanced optical source known as "optical frequency comb technology". "Based on this technology, my group is developing "optical synthesizers", which are tools that enable versatile control and manipulation of light analogous to musical instruments," says Minoshima".
An optical frequency comb consists of an advanced laser that emits a spectrum of light consisting of many highly precise, equally spaced optical frequency modes. It is also an extremely accurately controlled ultrafast pulsed laser that emits optical pulses with a very short time duration. Therefore, optical frequency comb technology provides very accurate controllability of multi-dimensional information, for example, in time, space, and frequency domains. Minoshima's group is conducting research to realize "optical synthesizer technology" for applications in a wide range of fields in science and technology.
Specific examples of technology being studied include high-sensitivity spectroscopic sensing for environmental, medical, and astronomical spectroscopy applications; new spectroscopy technique for direct, rapid, high-precision, and high-sensitive characterization of multiple properties of materials; high-accuracy long distance measurement techniques with compensation for air turbulence; and ultrafast three-dimensional shaped measurement techniques that simultaneously realize both broad range and high accuracy. It is important to note that these applications cannot be realized by conventional technology.
"We will continue this research to fully utilize the properties of light with the aim of cultivating innovative applications in over a broad range of science and technology fields, such as environment, biomedical, astronomy and space technology."
Further information
Kaoru Minoshima
Professor, Department of Engineering Science, Graduate School of Informatics and Engineering, The University of Electro-Communications.
WebSite: http://www.femto-comb.es.uec.ac.jp/
Research Highlight: JST-ERATO Intelligent Optical Synthesizer (IOS) Project