Guanghao Sun, Assistant Professor, Graduate School of Informatics and Engineering
Multiple Sensor Fusion Technology for Non-contact Measurement of Vital Signs and its Clinical Applications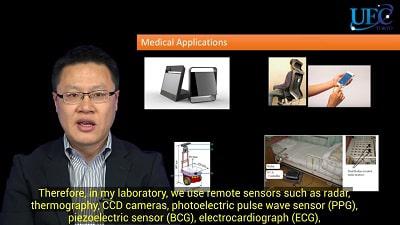 Guanghao Sun is conducting research on the development of non-contact biometric measurement and technology and their medical applications.
In recent years, research and development of technology for measuring vital signs such as body temperature, heart rate, respiration rate, and blood pressure without touching the human body is attracting attention.
Such non-contact biometric technology has a much lower burden on patients than conventional contact technology, and it can perform continuous monitoring without restraint and unconsciously, for a long time.
Therefore, Sun is using remote sensors such as radar, thermography, CCD cameras, photoelectric pulse wave sensor (PPG), piezoelectric sensor (BCG), electrocardiograph (ECG), and ToF sensor for non-contact measurement of vital signs by developing signal and image processing technology and commercialization and development of medical systems that implement this technology.
For example, microwave radar measures minute movements associated with respiration and heart rate that occur on the surface of the human body and calculates the heart rate and respiration rate. In addition, thermography measures infrared radiation emitted from the body-surface to measure the body temperature without contact.
Utilizing this technology to measure such non-contact vital signs, I am promoting student projects on "infectious disease screening system applied to airport quarantine"; "elderly watching system for home health care"; "sleep evaluation system"; "respiratory function measurement system"; and "evaluation system to measure fluctuations of autonomic nervous function from the heart rate".
Aiming for such practical applications for the social implementation, go from the initial "idea stage", to "system design", "manufacturing", "biosignal processing", "clinical evaluation" and "academia- industry collaboration" in a single process to create medical systems that are useful for people.
Further information
Guanghao Sun
Assistant Professor, Graduate School of Informatics and Engineering, The University of Electro-Communications.
Research Highlight: Multiple Sensor Fusion Technology for Non-contact Measurement of Vital Signs and its Clinical Applications