UEC-ERATO Symposium on optical frequency combs and ultrashort pulse lasers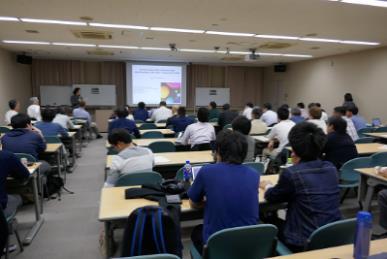 Scott Diddams from NIST, USA and Seung-Woo Kim from KAIST, Korea--two scientists renowned for their cutting edge research on optical frequency combs and ultrashort pulse lasers--were invited by Kaoru Minoshima (Research Director of the JST, ERATO Minoshima Intelligent Optical Synthesizer Project) and Masayuki Katsuragawa (Director of the Institute for Advanced Science) to present their latest research findings at the UEC-ERATO Symposium, held on 23 April 2018 at UEC, Tokyo.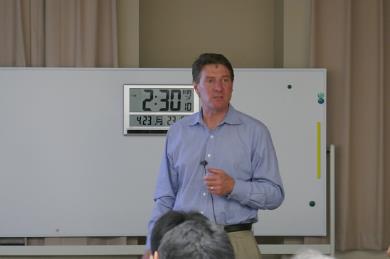 Scott Diddams has been involved in research on optical frequency combs from the early days, including many years of collaboration with Nobel Laureate John Hall, a distinguished visiting professor at UEC, Tokyo. His talk was entitled, "Broad bandwidth synthesis and spectroscopy with laser frequency combs". He presented his group's recent achievements on laser frequency combs that extend spectral coverage from 350 nm to beyond 20,000 nm, with emphasis on generating mid-IR molecular fingerprint regions with brightness comparable to infrared beam lines at synchrotron radiation facilities by using a simple and robust system.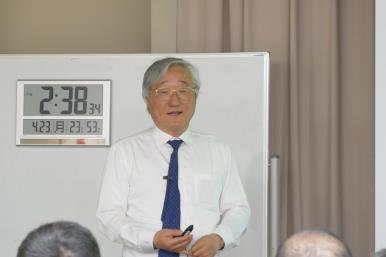 Seung-Woo Kim is acknowledged for the development of the world's first mode-locked fiber laser that successfully operated in space and for its applications to precision mechanical engineering and measurement from nano-scale to long distance. In his talk on, "Advanced optical metrology and fabrication using mode-locked lasers", he described many kinds of ultrashort pulse lasers and their applications, including absolute distance measurements, space missions, and 3D profile measurements for industry.
Approximately 70 people attended the symposium, including members of faculty and students from UEC, Tokyo, as well as researchers from other institutes. These lectures on cutting edge research led to lively discussions after the talks.